Veal in hay with asparagus and broad beans
This recipe from The Foodpairing® Company was prepared to fit with the taste profile of Double Enghien Blonde. The beer has a slightly fruity and zesty aroma with floral impressions and touches of malt. It has a slightly bitter taste that carries on into the finish where it grapefruit and hop flavours transcend it. It's a beer with plenty of body.
Serve with a Double Enghien Blonde at a temperature of between 4 and 8°C.
1 fillet of veal – about 400 g
hay
in which to cook the meat

25 g shallots 

2 g sage 

35cl white wine
375 g veal stock

½ bunch of green asparagus

300 g broad beans

butter
pepper and salt
tarragon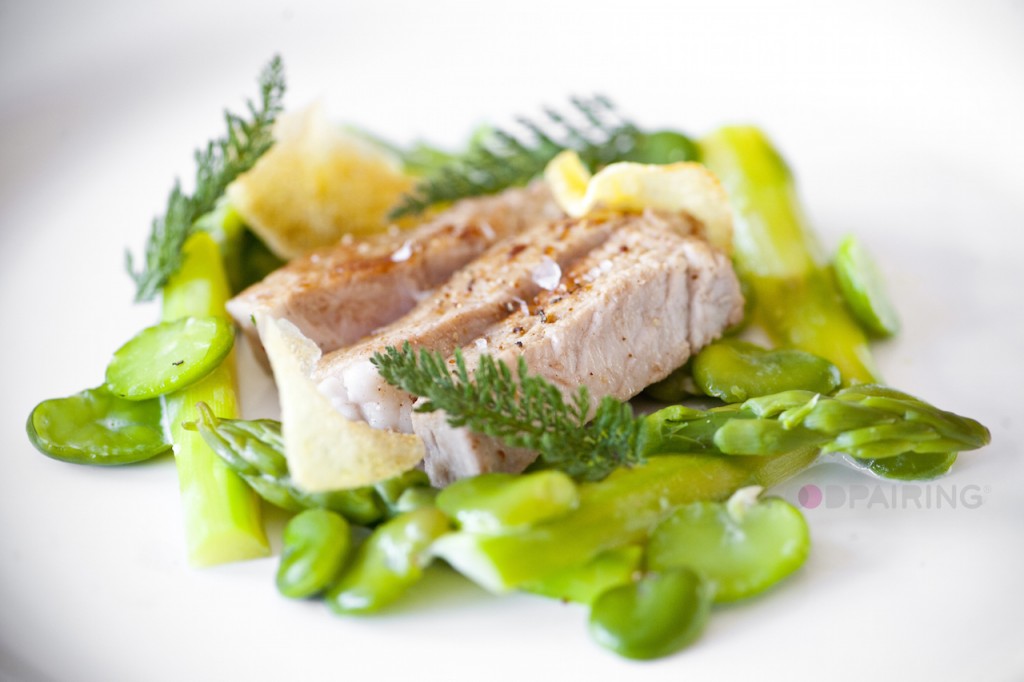 1 / Wrap the veal in the hay. Seal in a bag and heat sous-vide (in a water bath) for one hour at a temperature of 52°C. Remove the meat from the bag, clean off the hay and season with pepper and salt. Quick-fry the meat in in hot fat. Leave to rest for 5 minutes before slicing.
2 / Fry the shallots and the sage in butter. Then add the white wine and allow the sauce to thicken. Add the veal stock and thicken once more, sieve and finish with a dab of butter and seasoning to taste.
3 / Peel the green asparagus if you wish and cut into your desired shape. Boil until al dente in salted water and quickly cool down in iced water.
4 / Soak the broad beans and boil until al dente in salted water. Cool down in iced water. Remove the skin.

Fry the vegetables in butter, adding the tarragon and seasoning to taste as you serve them.