Razor clams with tomato and ginger
This recipe was created by The Foodpairing® Company based on the taste profile of Scotch de Silly.
This dish forms an ideal pairing with this dark beer with its aromas of spices, caramel and hints of fruit. Scotch de Silly's amazingly delicate woody aromas of hazelnut set it apart from the traditional British scotch beers. Its taste is more fully rounded with a hint of bitterness.
Serve with a Scotch de Silly chilled to between 6 and 9°C.
8 razor clams

1/2 red onion, chopped
white wine
30 g tomatoes diced
confit of ginger
chives, finely chopped
1 lemon
olive oil
pepper and salt
2 tablespoons mayonnaise
soy sauce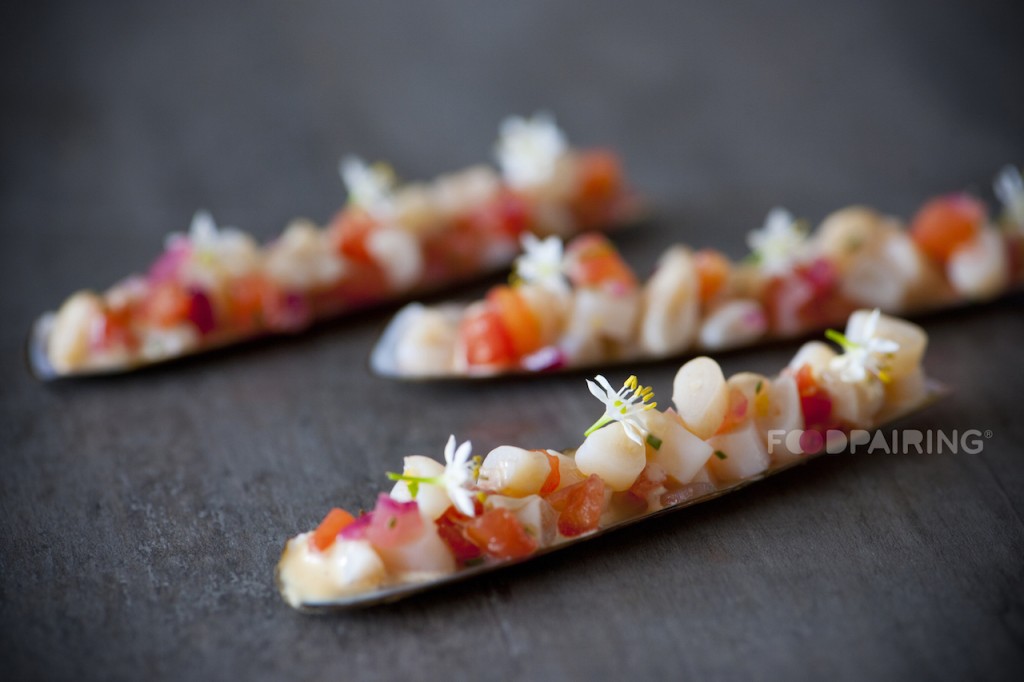 1 / Fill up a saucepan with a small quantity of water and bring to the boil. Cut open the razor clams and dunk them into the boiling water for 10 seconds. Remove the meat from the shells.
2 / Place the chopped red onion into a saucepan and cover it with white wine. Simmer until the wine has evaporated and then let the mixture cool down.

3 / Mix 50 g of razor clam meat with 30g of tomato, 20g of cooked red onion, and ginger and chives to taste. Add a dash of lemon juice and grated lemon peel. Season with olive oil, pepper and salt.
4 / Mix the mayonnaise with soy sauce and serve.