Rack of lamb with red beetroot and vanilla
This recipe was created by The Foodpairing® Company based on the taste profile of Scotch de Silly.
This dish forms an ideal pairing with this dark beer with its aromas of spices, caramel and hints of fruit. Scotch de Silly's amazingly delicate woody aromas of hazelnut set it apart from the traditional British scotch beers. Its taste is more fully rounded with a hint of bitterness.
Serve with a Scotch de Silly chilled to between 6 and 9°C.
1 rack of lamb

1 red beetroot, boiled

2 tablespoons olive oil

bourbon vanilla 

200 g potatoes 

50 g butter 
a generous dash of milk

3 small onions

chicken stock 

bay leaves and thyme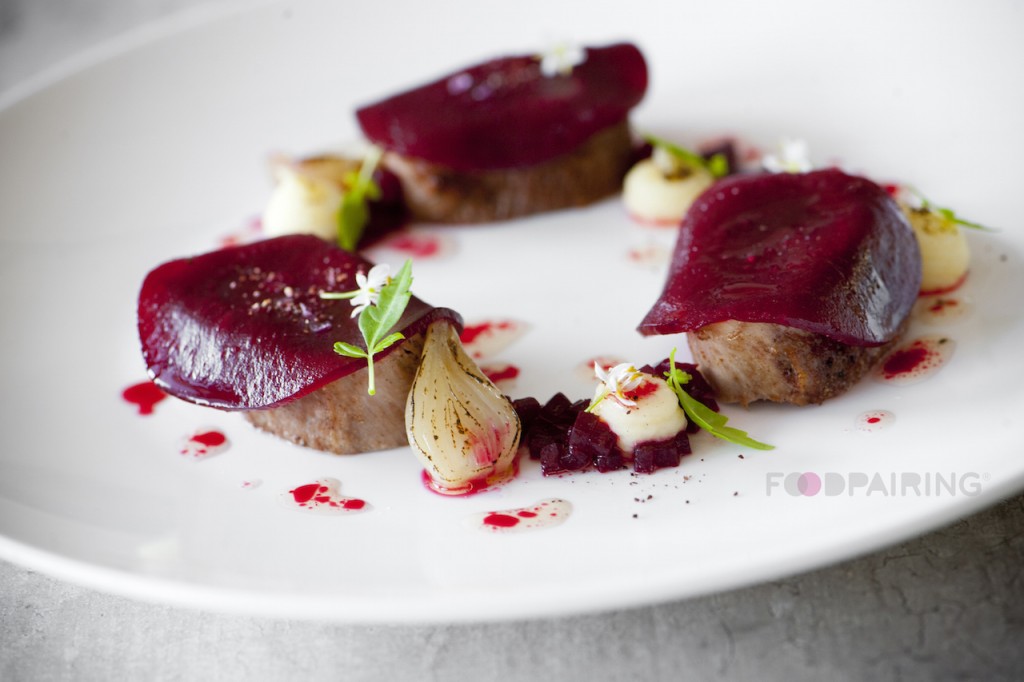 1 / Season the rack of lamb with pepper and salt. Fry in hot butter before roasting it in an oven pre-heated to 180°C until cooked to your liking: pink, well done or anything in between. Remove the lamb from the oven and let it rest for a few minutes before carving.
2 / Cut six small slices from the beetroot and dice the rest. Blend the olive oil with the vanilla and add this to the diced beetroot, season with pepper and salt.
3 / Boil the unpeeled potatoes in salted water before peeling and mashing them. Add the butter and push the potatoes through a sieve if necessary to make a smooth puree. Heat this puree, adding the cold milk and blending until you have a smooth potato paste. Season to taste.
4 / Peel the onions. Sweat them in a small amount of butter with the thyme and bay leaves. Add half of the chicken stock. Now turn up the heat and cook until the onions are al dente, then allow them to cool down. Now cut them in half lengthways and fry them
5 / Now divide the rack of lamb into six chops and arrange between two plates. Place a slice of beetroot on top of each chop, and spread the remaining diced beetroot around the meat. Arrange the potato puree on the plates, cover with freshly ground coffee and place three half onions on each plate.