Fillet of wild boar piglet marinated in herbs with Double Enghien Brune
A recipe with Double Enghien Brune by Nicole Darchambeau.
Serve with a Double Enghien Brune at a temperature of between 6 and 9°C.
40cl Double Enghien Brune
600 g fillet of wild boar piglet
½ teaspoon black peppercorns
4 cloves + 3 pieces of star anise
2 cloves of garlic + 1 stem of thyme
1 teaspoon juniper berries
1 teaspoon dried ginger
1 teaspoon strong mustard
2 tablespoons sour cream
1 tablespoon honey
1 tablespoon cranberry jelly
1 dash of olive oil + pepper and salt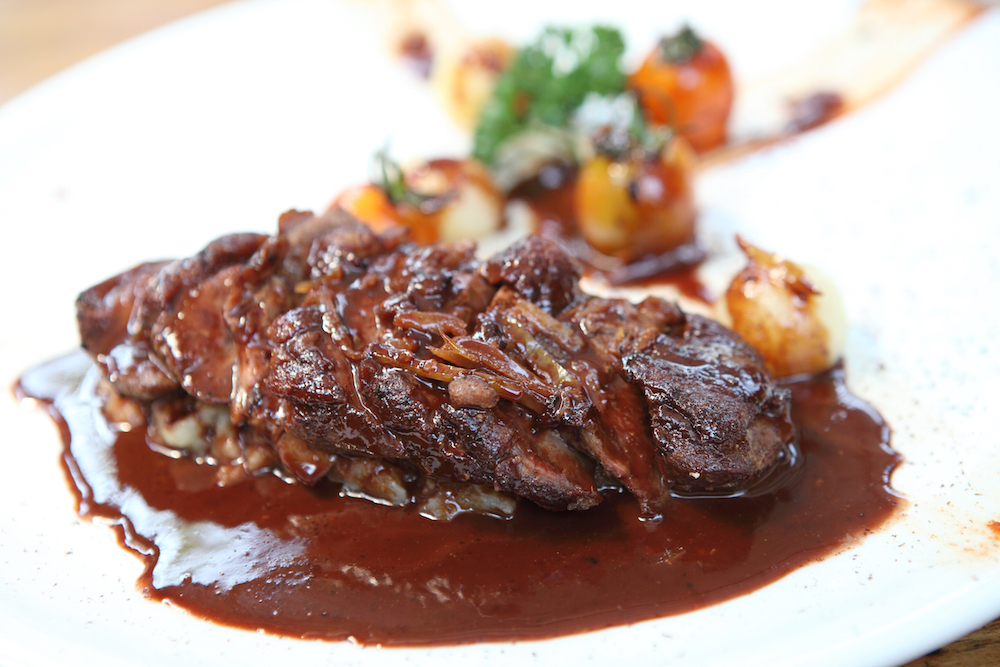 1/ The night before, place the fillet in an oven dish. Add the peppercorns, cloves, star anise, garlic, juniper berries, ginger and thyme. Cover in Double Enghien Brune. Allow to marinate for at least 12 hours, turning the meat regularly.
2 / The same day, remove the meat and dab dry. Heat the olive oil in a casserole and fry the meat. Remove the meat and wipe out the casserole.
3 / Sieve the marinade into the casserole and reduce at a high temperature. Add the meat, season with pepper and salt, cover and simmer for 20 minutes at a medium heat.
4 / Carve the meat and arrange on a dish. Keep warm.
5 / Reduce the liquid at a high temperature to make your sauce. Add the mustard, honey and cranberry jelly and mix carefully. Add the sour cream and allow to thicken until the sauce is creamy. Pour the sauce over the wild boar meat. Serve with potatoes with a sprinkling of parsley accompanied by cranberry jelly.