Mussels with Chorizo and Forest Abbey beer
Recipe by Benoît Vanden Eynde from the « Resto Ephémère »
2 kg of "Super" moulds
1 bottle of Abbaye de Forest Blonde (33cl)
1 bunch of fresh parsley
2 shallots and 2 onions
1 sprig of thyme
1 bay leaf
2 cloves of garlic
3 stalks of celery
3 carrots
250 gr of button mushrooms
2 tomatoes
125 ml of rust
250 ml of fresh cream 30% MG
60 gr of sliced chorizo
75 g butter
Salt and pepper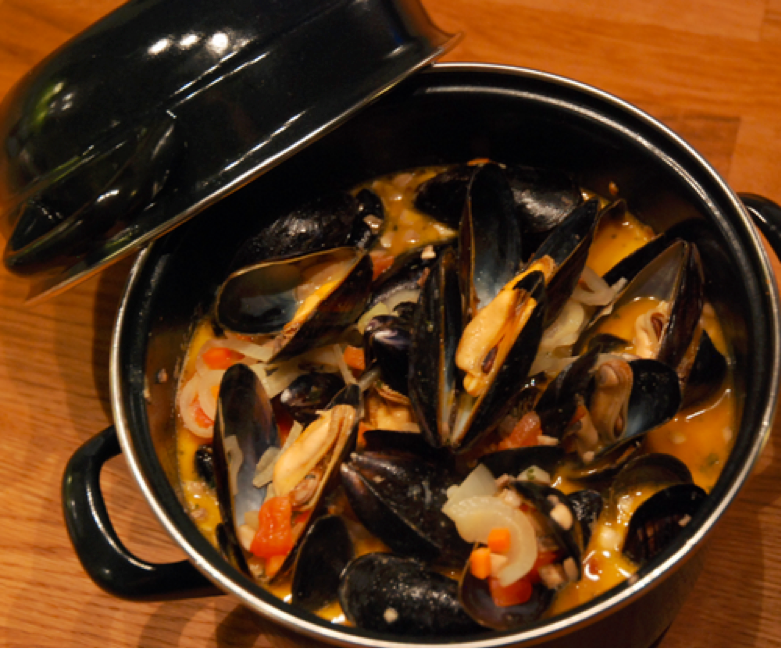 1 / Prepare the ingredients
Cut shallots and onions into rings.
Prepare a bouquet garni composed of parsley, celery, thyme and bay leaf.
Cut the carrots, mushrooms and celery into small cubes. Set aside.
Do the same with the tomatoes, previously peeled and deseeded. Set aside.
Scrape and wash the mussels in cold water.
2 / Prepare the sauce
Melt a knob of butter in a saucepan and add the minced garlic and chorizo.
Then pour in the fresh cream and the rust. Season with salt and pepper. Mix and simmer for 10 minutes. Then strain the preparation through a sieve. Set aside.
3 / Cooking the mussels
Melt a knob of butter in the mussel pan over high heat. Add shallots, onions and carrots.
Before the vegetables colour, add the bouquet garni and pour the "Abbaye de Forest" beer.
Then put the mussels in the pan and cover for 2 minutes.
Pour the sauce and add the mushrooms and diced tomatoes. Season with salt and pepper.
Mix and cover again.
Leave to cook for 8 minutes, stirring a few times.
Remove the bouquet garni.
Serve immediately with French fries and an Abbaye de Forest beer. Enjoy your meal!